April, 2016
Barnwell Whaley's Judith Carberry elected President of South Carolina Association of Legal Administrators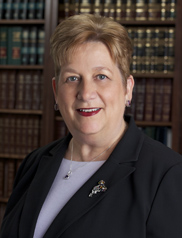 Charleston, SC, United States – Judith Carberry, Firm Administrator of Barnwell Whaley Patterson & Helms, LLC, has been elected President of the South Carolina Association of Legal Administrators (SCALA), an official chapter of the Association of Legal Administrators (ALA).
The South Carolina Chapter of the Association of Legal Administrators (SCALA) provides support to professionals involved in the management of law firms, corporate legal departments and government legal agencies throughout the entire state of South Carolina. SCALA currently assists more than 50 law firm administrators from all over the state of South Carolina.
"The modern law office and its needs are changing as rapidly as the technology that is driving our businesses," commented Ms. Carberry, "it is imperative for administrators, IT professionals, and support staff to remain in a constant learning mode and to be open to change. The new technologies for law professionals are presenting challenges that require the business managers and others in our industry to rethink and retool the way we do business."
SCALA provides its members with a wealth of information through peer contact and educational meetings featuring well-known speakers from all over the country. "Taking time to discuss new, innovative ways to conduct our businesses with our peers is time well spent. Each of our meetings provides some new insight to my profession and I am grateful for these opportunities," remarked Carberry, who has over twenty-five years of experience as a law firm administrator, and previously served as the President of the New Jersey chapter, as well as a member of the Board of Directors. She received her Bachelor of Science at East Stroudsburg University and continued post graduate studies at Villanova University.
Established in Charleston in 1938, Barnwell Whaley Patterson & Helms, LLC, represents and counsels businesses and professionals in the state of South Carolina, throughout the United States in Federal Court, and beyond. Widely respected for their work in complex litigation matters, the firm's 18 members and associates focus on the areas of complex civil litigation defense, patents, trademarks and intellectual property, professional malpractice defense, construction law, business law, business immigration, immigration litigation and products liability defense. For additional information, visit www.barnwell-whaley.com .