May, 2015
M. Dawes Cooke, Jr. sworn in as South Carolina Bar Secretary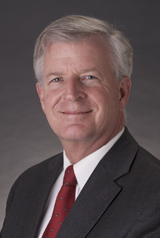 Barnwell Whaley member attorney M. Dawes Cooke, Jr. was sworn in as the Secretary of the South Carolina Bar at the May meeting of the House of Delegates, held at the USC School of Medicine in Greenville. A former member of the Board of Governors for the South Carolina Bar, Cooke adds the role of Secretary to his list of leadership service in the Bar.  A perennial leader in South Carolina's legal community, Cooke has served as past president of the Charleston County Bar Association, past president of the Charleston Chapter of the American Board of Trial Advocates and Chairman of the South Carolina Commission on Judicial Independence and Impartiality.
In his community, Cooke has served as a past president of the Board of Directors of East Cooper Community Outreach and has served on the board since its inception 25 years ago. Additionally, he has served as president of the East Cooper Breakfast Rotary Club and vice chairman of the Rotary District 7770 Gift of Life Board of Directors.
Cooke is a member attorney at Barnwell Whaley in Charleston, and practices in the areas of complex civil litigation, professional liability defense, personal injury litigation, mediation and arbitration.  Established in Charleston in 1938, Barnwell Whaley Patterson & Helms, LLC, represents and counsels businesses and professionals in the state of South Carolina and beyond. Widely respected for their work in complex litigation matters, the firm's 17 members and associates focus on the areas of civil litigation defense, alternative dispute resolution, patents and intellectual property, professional malpractice defense, construction law, business law and products liability defense.
The South Carolina Bar, which has a membership of more than 15,000 lawyers, is dedicated to advancing justice, professionalism and understanding of the law.