December, 2015
Guy Dabbs joins Barnwell Whaley as Associate Attorney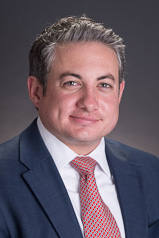 Barnwell Whaley Patterson & Helms, LLC is pleased to announce the addition of Guy M. Dabbs, IV as an associate attorney.  Mr. Dabbs counsels businesses ranging from startups to larger corporations serving global markets in the areas of general business, corporate, and transactional law, including matters related to commercial transactions, corporate management, commercial real estate, intellectual property and real property.   His practice often consists of advising on entity formation to include the drafting of operating agreements, by-laws or other organizational documents.  In addition, he has experience reviewing title to real property and drafting license agreements, easements and documents of conveyance.  With regard to intellectual property, Mr. Dabbs has counseled clients in managing their companies' intellectual property portfolios, including combating and addressing global counterfeiting issues and advising on the purchase, sale, or license of intellectual property.
Guy Dabbs earned his undergraduate degree, a Bachelors in Business Administration, at the Valdosta State University Harley Langdale, Jr. College of Business and his Juris Doctor at the University of South Carolina School of Law. Prior to Barnwell Whaley, Guy worked in private practice in downtown Charleston and served as outside counsel for a Charleston based manufacturing company with domestic and global interests.
Established in Charleston in 1938, Barnwell Whaley Patterson & Helms, LLC, represents and counsels businesses and professionals in the state of South Carolina, throughout the United States in Federal Court, and beyond. Widely respected for their work in complex litigation matters, the firm's 18 members and associates focus on the areas of complex civil litigation defense, patents, trademarks and intellectual property, professional malpractice defense, construction law, business law, business immigration, immigration litigation and products liability defense.