November, 2016
Barnwell Whaley ranked in 2017 Best Law Firms list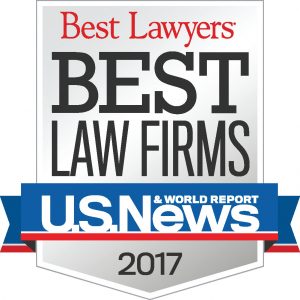 Barnwell Whaley Patterson & Helms, LLC has been ranked in the 2017 U.S. News – Best Lawyers® "Best Law Firms" list regionally in 10 practice areas. Barnwell Whaley has been included each of the seven consecutive years that U.S. News & World Report and Best Lawyers have published the "Best Law Firm" rankings. Firms included in the 2017 "Best Law Firms" list are recognized for professional excellence with persistently impressive ratings from clients and peers.
In the Metropolitan Tier 1 for Charleston, South Carolina, Barnwell Whaley is listed and recognized in the areas of commercial litigation, intellectual property litigation, trademark law and personal injury litigation on behalf of both defendants and plaintiffs. In tier 2, Barnwell Whaley is listed and recognized for their work in the areas of arbitration, mediation, construction law and product liability litigation – defendants. And in tier 3, Barnwell Whaley is recognized for work in corporate law.
Established in Charleston in 1938, Barnwell Whaley Patterson & Helms, LLC, represents and counsels businesses and professionals in both North and South Carolina, throughout the United States in Federal Court, and beyond. Widely respected for their work in complex litigation matters, the firm's 18 members and associates focus on the areas of complex civil litigation defense, patents, trademarks and intellectual property, professional malpractice defense, construction law, business law, business immigration, immigration litigation and products liability defense.